Email Advertising
Maximise your return from exhibiting – add an email broadcast to your stand booking …
Option 1: Reach 45,000+ UK-based investors
Property Investor Media maintains a relationship with 45,000 of the UK's most active investors. In addition to being property investors they hold portfolios that increasingly include 'Student' and 'Hotel' rooms - plus a range of property and non-property alternatives. All have a serious interest in relevant investment messages AND the funds to invest. A variety of advertisers use Property Investor Media investor database – including the examples below.
Brookes & Co - USA Investment
Sequre - UK Buy to Let Investment
Castlewood Group - Resort Hotels
Howarth Homes PLC - London
Option 2: Reach 40,000 Global Property Professionals
Our work as the UK's premier property investment exhibition organiser brings us into contact with a large (and expanding!) network of international property professionals. Comprising developers, agents and a mix of real estate intermediaries and sector specialists from around the world, within this group are companies who can work with you to deliver your property proposition to a wider audience. Put simply - they can help you generate incremental business.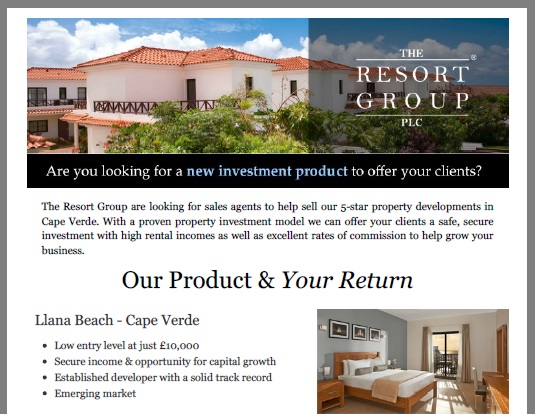 The Resort Group PLC
Llana Beach - Cape Verde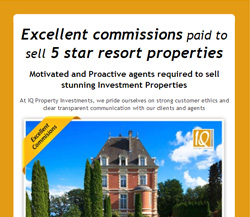 I Q Property Investments
Resort Property Investments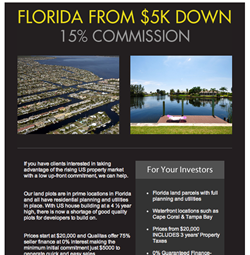 Qualitas Property International - Florida
" ...This is the first time I have used Property Investor Media's B2B property database of Global Property Professionals.
One mailing produced 5 sales for one of our USA investments and a number of excellent leads from agents in several countries - leads that I am confident will generate further business.
I have no hesitation in recommending this resource to others seeking to develop their network of agent contacts ..."
Martin Sadler, Operations Director, Qualitas Property International